About Dr. Menny Rabinovich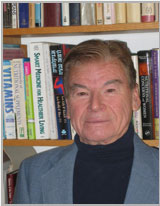 Dr. Menny Rabinovich
Founder
Dr. Menny Rabinovich, founder and director of Turmeron Health Products Ltd., developed Curcumall® together with his wife Aviva. In creating Curcumall, they combined decades of knowledge and experience in biochemistry and medicinal plants with their sincere desire to provide relief to people in pain and anguish.
Dr. Menny Rabinovich was a molecular biologist & biochemist with expertise in nutrition, health and medicinal plants. A former researcher at the Hadassah Medical Center in Jerusalem, he was renowned as a dynamic and fascinating lecturer. After 1997, Dr. Rabinovich was the Director of the Center for Wise Nutrition in Israel, providing consultation and lectures on health and nutrition.
For years we were amazed by the hundreds of research papers that dealt with turmeric's outstanding health properties…" says Dr. Rabinovich "…But researchers always pointed to the low absorption rate of the spice and its low bioavailability. With Curcumall® we have created a potent herbal formula that is readily absorbed, and may provide an answer to many health conditions, without side-effects.