Using Curcumall®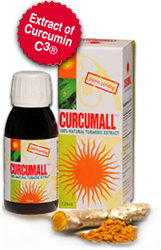 The content below is for informational purposes only and is not intended to be a substitute for advice from a registered physician or other health care professional. This product is not intended to diagnose, treat, cure or prevent any disease.
The recommended amount per day of the dietary supplement Curcumall® varies according to the health condition and its severity.
As a dietary supplement take 1 teaspoon (5ml) in a glass of water, 1-3 times daily on an empty stomach (half an hour before a meal or approximately two hours after a meal).
In general, it is recommended that with a severe health condition, take Curcumall® 2-3 times daily. Upon improvement, one may lower the intake to once a day.
Curcumall® exhibits no side effects
Precautions:
Curcumall® is not recommended for use by pregnant or nursing women.
Do not use Curcumall if you have bile duct obstruction.
Not for use with Coumadin.
Stop all intake of Curcumall one week before undergoing surgery.
Cancer patients treated with chemotherapy should consult their doctor about taking Curcumall®
Important
In order to ensure coordinated and safe care, inform your health care providers about any complementary and alternative practices you use. Give them a full picture of what you do to manage your health.