Healthy Vegetable Soup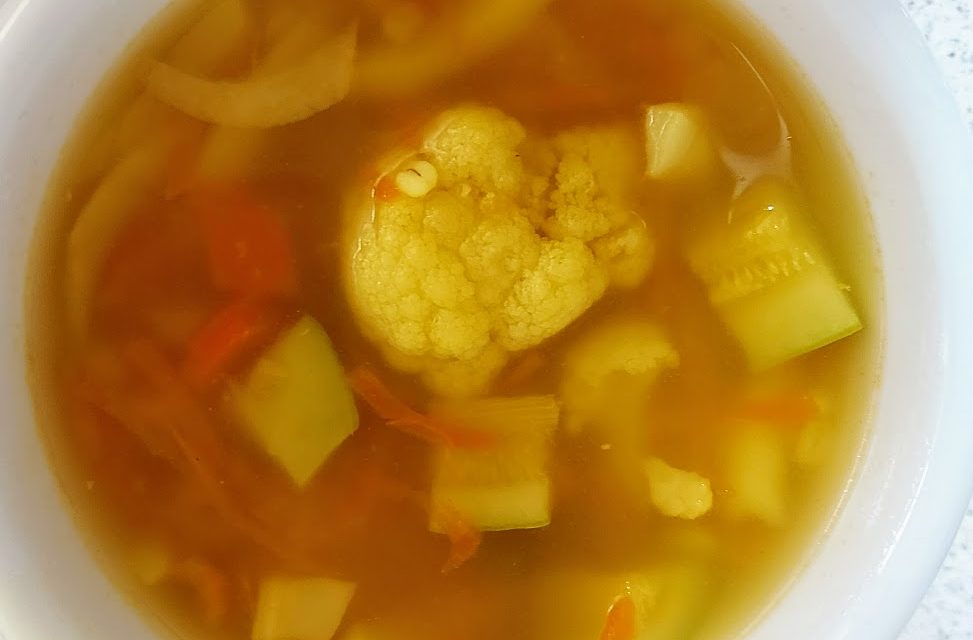 This hearty Vegetable Soup is one of my most popular recipes and for a good reason. It is healthy, it is comforting and it is easy to make. It is full of flavor and at the end you enjoy a big warm bowl of a Yummy soup that everyone loves. I make it every week in a large cooking pot and it may last for a few days. The soup is jam packed with veggies. It is usually made from fresh veggies: Carrots, celery, zucchini, cauliflower, celery, potatoes. You can add corn or green peas, yellow onion or garlic. I also like to add pearl barley. For best results I recommend using fresh vegetables, however, it can also be prepared from frozen vegetables.

The recipe uses a variety of vegetables. This simple yet flavorful soup recipe is easy to follow and can be customized to your favorite taste with selected vegetables.

Preparation Time: 15 minutes
Cooking Time: 60 minutes
Serves: 8 servings.
Ingredients:
1 cup chopped carrots
1 cup chopped potatoes
1/2 cup chopped celery (root+leaves)
1 cup cauliflower florets
1 cup chopped zucchini
1 chopped onion
3/4 cup pearl barley
1/4 cup tomato paste
1 tsp Salt,
1/2 tsp Pepper
1 tsp Curry
1 Tbsp Curcumall
Optional:
minced garlic, corn kernels, green peas, French beans
Directions:
Chop the vegetables into 1/4 inch cubes. Start heating the chopped carrots, potatoes and celery with 4 cups of water. Bring to a boil and simmer for 3/4 hour. In another saucepan rinse 3/4 cup of pearl barley and put to boil for 3/4 hour. Combine the cooked barley with the vegetables add more water. Add cauliflower florets and chopped zucchini. At this point we can add seasoning –salt and pepper, one teaspoon of curry, tomato paste and one Tablespoon of Curcumall. Cook for another 10-15 minutes and the soup is ready. Add seasoning to taste.
The soup is mildly seasoned but you may add herbs like marjoram, parsley or basil. You can add fresh or canned tomatoes. This soup has a simple well balanced flavor and it really is very easy to make. It is a delicious and hearty soup
Curcumall adds a nice yellow color and a nice flavor. And above all the health benefits of turmeric and curcumin. Enjoy !