Easy Mediterranean Golden Rice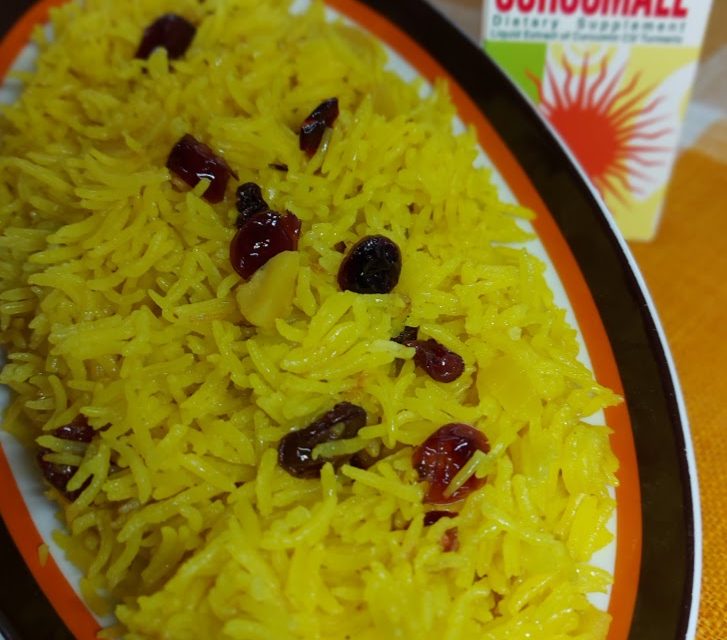 This flavorful and healthy Mediterranean rice is made with Curcumall, the liquid turmeric/curcumin and ginger extract and with candied ginger, dried cranberries and raisins. It will make any meal tastier and it's so easy to make.
Using Curcumall as a source of turmeric and ginger gives the rice a nice golden color and the health benefits of turmeric and ginger . Turmeric and ginger are known for their anti-inflammatory and other health benefits. 
Cook Time: 15-20 minutes
Ingredients
1 cup Basmati rice
1 teaspoon Curcumall®
2 Tablespoons olive oil
2 cups water
1/4 cup dried cranberries
1/4 cup raisins
4-5 candied ginger cut to small pieces
1 teaspoon salt
Cooking Instructions
Rinse the rice several times with water. Heat the rice with water, Curcumall, oil and other ingredients. Bring to a boil. Turn down heat to low, cover and cook rice until tender and liquid is absorbed, about 15-18 minutes.
The Curcumall provides turmeric and curcumin and gives the dish its yellow shiny color as well as the health benefits of turmeric. Enjoy!
Order Curcumall from amazon : bit.ly/Curc-250