Angel Eggs — Healthy Deviled Eggs with Curcumall®
Surprise your guests with this curcumin-infused deviled egg recipe. What an excellent holiday appetizer!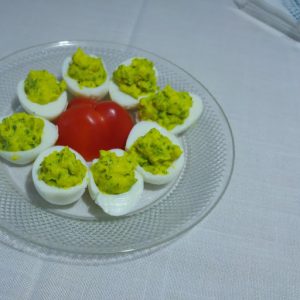 Ingredients
6 eggs
2-3 Tb low-cal mayonnaise
1 tsp olive oil
½-1 tsp mustard
3 Tb parsley  – finely chopped
1 tsp Curcumall
salt to taste
Directions
Place the eggs into a saucepan in a single layer and fill with water to cover the eggs by 1 inch. Cover the saucepan and bring the water to a boil over high heat for 15 minutes. Remove from the heat and rinse with cold running water. Peel once cold. Halve the eggs lengthwise and scoop the yolks into a bowl.
Mash the egg yolks with a fork adding the mayo, mustard, olive oil and Curcumall into a smooth creamy mixture. Add salt to taste and add the finely chopped parsley until the mixture is very well blended. Spoon into the egg white. You may garnish with black olives.