Hearty Lentil Soup with Curcumall®
Lentil soup is one of those recipes that you should cook as the weather gets colder. We recommend using red whole lentils (not split). Lentils are high in protein, healthy and cheap. This vegetarian lentil soup recipe uses seasonings to perk up the soup, including curry and the turmeric extract Curcumall®.
I usually soak the lentils in warm water the night before cooking—the lentils will sprout and the protein will be more digestible.
You will notice that we suggest adding 2 slices of bread. This gives us a source for the essential amino acid that is missing in the vegetarian protein of the lentils. The essential amino acid methionine is missing from the lentil protein whereas the essential amino acid lysine is missing from the grain protein. By mixing lentils with grains we get a complete protein that provides all essential amino acids.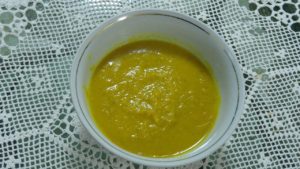 2 T canola oil,
1 onion, diced and fried in oil
4 carrots, sliced
2 slices of white bread
6 cups water
4 vegetable bouillon cubes—make vegetarian broth
4 cups dry whole red lentils
1 tsp caraway seeds
1 tsp salt (to your taste)
1 tsp Curry powder
2 tsp Curcumall®
In a large pot, sauté the onions in the vegetable oil for 3-5 minutes until onions turn clear. Add the vegetable broth, lentils, carrots caraway and 2 slices of bread.  Bring to boil, reduce heat to a simmer. Cover and cook the soup until the lentils are soft, about 60 minutes.  Remove from heat and allow the soup to cool for 1-2 hours.
Afterwards put the soup in batches in the blender while adding the curry, salt to taste and the Curcumall.  After blending bring to boil again –and the soup is ready.
Taste and season with a bit more salt and pepper to taste, or serve as is and allow everyone to season as they prefer.
Makes 6 servings.