5 Ways Curcumin Helps in Tackling High Cholesterol … The natural way to avoid a heart attack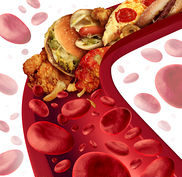 There is an increasing interest in curcumin as a cardiovascular protective agent by decreasing blood total cholesterol and especially LDL-cholesterol level. The hypocholesterolemic effect of curcumin, meaning the cholesterol lowering action of curcumin, has been researched in human and animal studies. The research showed that curcumin supplementation lowers the concentrations of serum cholesterol and triglyceride level.
People are concerned about their cholesterol levels as high cholesterol may cause various health problems. It tends to oxidize and build-up in the arteries and lead to atherosclerosis, cardiovascular diseases and strokes. As many of you already know there are two types of cholesterol: LDL –the "bad" cholesterol and HDL –the "good" cholesterol. Both cholesterols are affected by healthy diet, exercise, body weight and– curcumin.
The natural way to reduce cholesterol levels is by consuming curcumin regularly. Research has shown that curcumin helps in reducing cholesterol levels and dissolving the cholesterol plaques.
Research reveals that curcumin lowers cholesterol in 5 ways:
1. Curcumin prevents oxidation of cholesterol and thus avoids the build-up of plaques in the blood vessels. The plaques cause atherosclerosis and heart attacks.
2. Curcumin increases the metabolism of cholesterol in the liver. Curcumin enhances the uptake of cholesterol by the liver and thus helps in reducing the free cholesterol in the blood system.
3. Curcumin helps in suppressing the accumulation of cholesterol in the blood cells. Cholesterol not just deposits in the blood vessels but also accumulates in macrophages, blood cells that scavenge the cholesterol. Accumulation of cholesterol in macrophages leads to problems in the immune system regulation.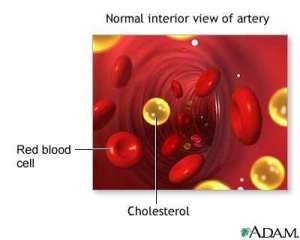 4. Curcumin was shown to increase the cholesterol level in the feces. This means that curcumin may prevent the absorption of cholesterol and lipids and promote fecal excretion of triglycerides
5. The hypocholesterolemic effect of curcumin may partially be accounted to the increase in the CYP7A1 gene expression.
To keep your cholesterol and triglycerides level in a healthy range start your morning with a hot drink of curcumin:
Mix 1-2 teaspoons of Curcumall® with hot boiling water. You may add 1-2 candied ginger.
Drink it first thing in the morning—it really makes you feel good!