Golden Latte — A Curcumall® Health Milkshake
Golden Latte– a hot healthy milkshake
Here is a great way to start your morning with a healthy milkshake that will do wonders for your body and health. You may drink it hot or cold.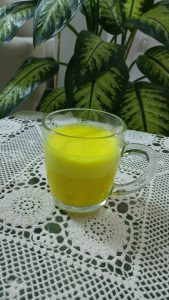 It helps sharpen your focus and reduce inflammation and discomfort.
Even though you can consume it during the day, we recommend drinking it half an hour before breakfast and in the evening before going to bed.
The main health ingredient is the liquid turmeric extract Curcumall® that contains also curcumin and ginger.
According to many studies, turmeric has the ability to strengthen the immune system, reduce inflammation and fight microbes and viruses. This natural beverage can relieve joint pain, detox liver, relieve muscle pain, arthritis, and gastro problems.
Although Curcumall® includes Ginger extract, we recommend adding more ginger to the beverage. Ginger is known for its ability to soothe nausea, inflammation, cold, digestion, and blood sugar.
The drink includes milk of your favorite (almond, soy, coconut, or dairy).
Honey (optional) has potent antibacterial properties and is recommended in the case of cold and allergy.
Ingredients:
1-2 Tsp Curcumall®
Ginger root—1 inch grated ginger
2 cups warm coconut milk (or regular milk)
Optional: 1 tsp honey
DIRECTIONS:
 Heat one cup of your favorite milk (almond, soy, coconut, or dairy) on medium heat
Pour warm milk into a blender. Add 1 Tablespoon  of Curcumall and blend well.
Add the grated ginger, a pinch of salt and/or a teaspoon of honey.
Drink while warm and wait for half an hour before you drink or eat breakfast. This will assure the optimal absorption of the curcumin/turmeric.
Try it before your morning workout, or as a super recovery drink. Enjoy!