New Turmeric and Ginger Latte — A Curcumall® Milkshake
Here is a great way to start your morning… with a milkshake?
That's right– this healthy milkshake will make you feel better in the morning.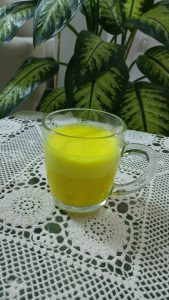 It helps sharpen your focus and reduce inflammation and discomfort.
The liquid extract Curcumall® contains turmeric, curcumin and ginger in every spoonful. It adds a wonderful flavor to this latte.
DIRECTIONS:
Heat one cup of your favorite milk (almond, soy, coconut, or dairy) on medium heat
Pour warm milk into a blender. Add two teaspoons of Curcumall and blend well.
You may add a pinch of salt and/or a teaspoon of honey.
Drink while warm and wait for half an hour before you drink or eat. This will assure the optimal absorption of the curcumin/turmeric.
Try it before your morning workout, or as a super recovery drink. Enjoy!