Yellow Indian Chicken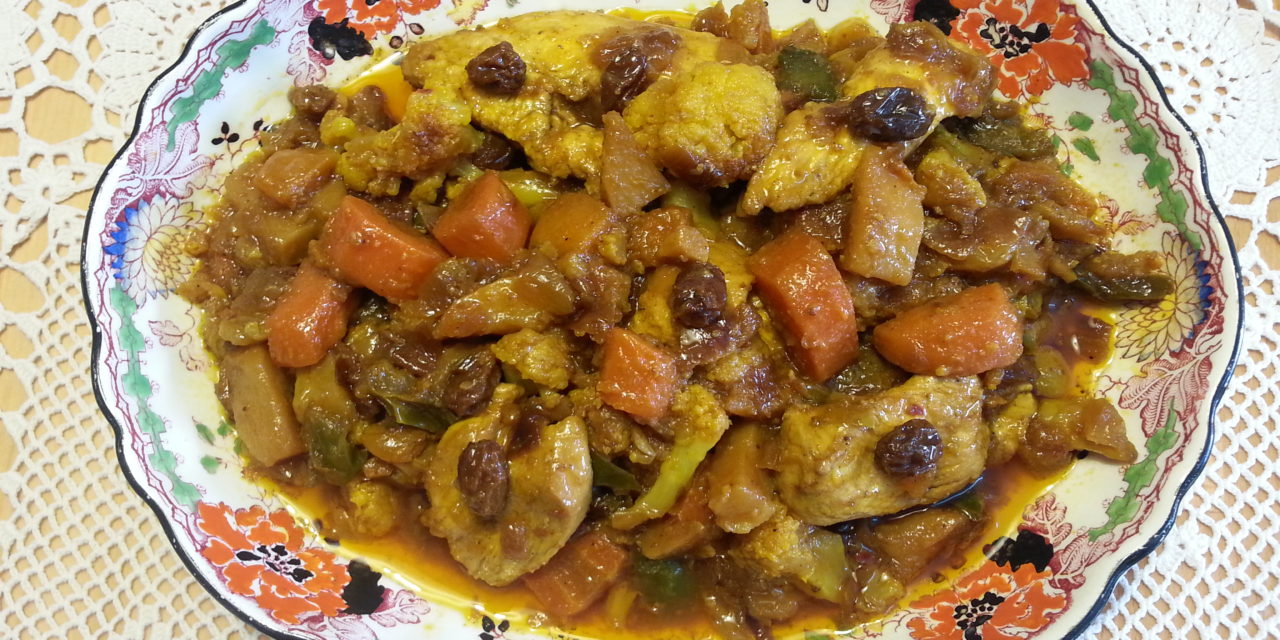 The aromas and flavors of this Indian chicken are a delight to the senses. It is best served with Basmati rice.
Prep:30 min  Cook:50 min   Yield:4 to 6 servings
Ingredients
1 Lb.chicken breast cut into 1" cubes
2 Tb soy sauce + 2 tsp mirin
4 Tb oil
2 cups sliced onions
3 Tbs minced garlic
3 Tbs minced ginger
2 tsp. dry red chili
1 tsp curry powder
2 cups carrots cut to 1-inch cubes
2 cups potatoes,1-inch cubes
2 cups cauliflower 1-inch florets
2 cups green and red pepper slices
1 Tb Curcumall®
¼ cup raisins
¼ cup dried cranberries
¼ cup diced sugared ginger
2 cups of water
¼ cup lemon juice
2 tsp salt
2 tsp. sugar
Directions
Marinate chicken breast cubes in soy sauce + mirin for half an hour.
In a large saucepan, heat the oil stir-fry the onions until glossy. Add the ginger and the garlic the red chili and the curry. Stir-fry until spices bloom and become aromatic. Add the carrots, potatoes and peppers and continue to stir-fry after five minutes add the cauliflower stir fry the vegetables until soft but do not allow to brown. Add 2 cups of water + 1Tb Curcumall + salt. Add the raisins, dried cranberries and cut sugared ginger.  Simmer for 30 minutes.
Add the chicken breast cubes and simmer for additional ten minutes. Add more water as necessary. Add the lemon juice. Taste and adjust seasoning with salt or 1 tsp sugar.
Bon Apetite!